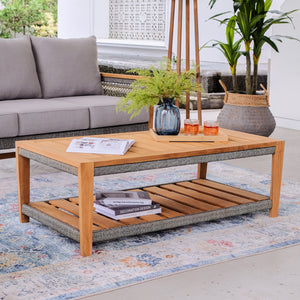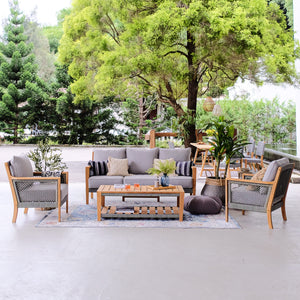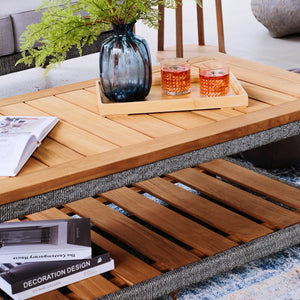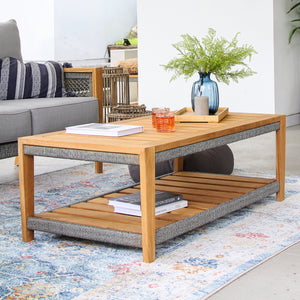 OVERVIEW
Create your ideal outdoor setup with this Nassau Teak Wood Patio Coffee Table with Shelf by Cambridge Casual. The durable and detailed Indonesian teak design, adorned with gray poly rope weaving, seamlessly complements any environment. Crafted with precision from Indonesian teak wood, this teak wood patio coffee table for outdoor living will withstand the test of time and bring joy to many seasons. Rest assured, this teak wood coffee table with shelf will provide reliable support for your outdoor lounging needs. Fulfill your patio dreams by adding matching items from the Nassau collection to complete your perfect set.
SPACE-SAVER: This space-saving outdoor teak wood coffee table provides a practical lower shelf to keep all your outdoor essentials neatly organized.
MODERN & CONTEMPORARY STYLE: Nassau's range showcases our dedication to creating a design that combines modern and contemporary elements.
HIGH-QUALITY MATERIAL: This outdoor teak wood coffee table perfectly complements your outdoor area by blending the elegant charm of Indonesian teak with a stylish gray poly-rope finish.
WEATHER-RESISTANT: Crafted using premium Indonesian teak, this exquisite outdoor teak wood coffee table is designed to endure all weather conditions, rendering it the ultimate choice for year-round outdoor usage.
QUICK & EASY ASSEMBLY: You will find a straightforward and well-structured instruction manual accompanying it, ensuring that you are guided through each step seamlessly for effortless and efficient assembly.
BEAUTIFUL PAIRING: Skip the tedious process of sifting through countless random pieces online to create a cohesive patio ensemble for your home - we have a selection of matching pieces readily available for you.
DIMENSION
FEATURES
CARE INSTRUCTION
ASSEMBLY INSTRUCTION
RETURN POLICY