Moni Solid Wood Natural Brown Porch Swing
Moni Solid Wood Natural Brown Porch Swing
Regular price $249.00 Sale $0.00
Write a Review
? We deliver to 48 Contiguous United States,
via UPS Ground or LTL Freight Service,
estimated arrival in 5-14 Business Days.
OVERVIEW
Enjoy gentle movement of porch swing with this Moni Solid Wood Porch Swing from Cambridge Casual. With the new color collection: Natural Brown, lends this patio swing timeless appeal that sits well with most decor themes. Pair this teak swing with other pieces from Moni Collection to create a perfect patio decoration at your backyard.
NEUTRAL LOVERS: This patio swing is available in black, white, and natural brown finish. All are neutral colors and suits well with any kind of decor.
VERSATILE & STYLISH DESIGN: This porch swing design is inspired by beautiful houses at the countryside. We made this porch swing versatile enough to accentuate any porch style.
DURABLE SOLID WOOD FURNITURE: Premium solid mahogany wood frame creates a sturdy piece of outdoor swing daybed that can support up to 500 lbs each.
ERGONOMIC DESIGN: This porch swing's backrest and seat are ergonomically-contoured to make sure you can spend long hours on it in comfort.
WEATHER-RESISTANT: Its mahogany wood frame is coated with polyurethane finish to prep it for outdoor use. This finishing creates great resistance against outdoor elements.
QUICK & EASY ASSEMBLY: We guarantee you easier process consist of only a few parts to be assembled with 

clear step-by-step instruction manual included.
DIMENSION
FEATURES
CARE INSTRUCTION
ASSEMBLY INSTRUCTION
RETURN POLICY
REVIEWS
Customer Reviews
Beautiful porch swing!
Moni Solid Wood Natural Brown Porch Swing This a beautiful Mahogany swing! I use it everyday when I have my cup of coffee in the morning and drink in the evening. I can't believe I waited so long. Best is swinging with my grandkids. Creating beautiful memories!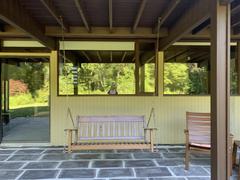 Love this porch swing!!!
I have always wanted a porch swing but I never thought I would have one since I live in the southwest and don't have a cozy front porch. But while being at home so much during the COVID-19 quarantine, I decided why not get the porch swing I always wanted! My husband easily assembled it, the instructions were simple to follow and all of the hardware was included. The porch swing is made with quality craftsmanship. I didn't realize before I started looking for porch swings that I was actually quite picky in what I was looking for and this specific swing was the only one I found that met my specific criteria. I initially found this swing on Home Depot's website but they were out of stock. I loved the look and design of this swing so much that I had to find out the manufacturer of this swing so that I could try to find it on their website. Of course when I found them, the website was temporarily shut down because of the covid lockdown. I was so bummed but I kept checking back over the next couple months, and sure enough, the website was back up and running! My porch swing was in stock and I was so excited! Shipping was quick and it arrived in good condition. The swing is comfortable to sit in and I love that the armrests are wide enough to rest your arm and set a drink on. I appreciate that the chains on the swing don't go through the armrest like a lot of other porch swings. This swing is big enough and sturdy enough to hold my husband and me as well as our 4 y.o. daughter.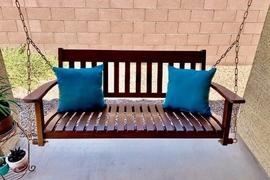 INSIGHT
Shop More Outdoor Patio Furniture